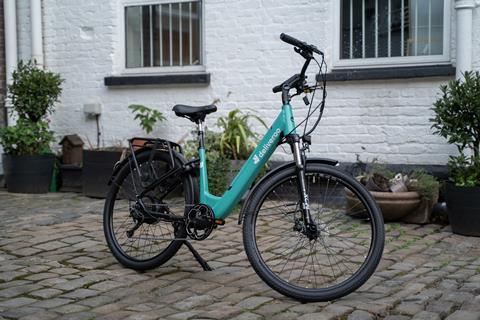 Electric bike manufacturer Volt has partnered with Deliveroo to trial a subsidised bike scheme for a group of couriers across the UK.
Couriers picked by Deliveroo to take part in the trial will have the opportunity to buy a Deliveroo-branded Volt Burlington e-bike for a heavily discounted rate.
The riders – the numbers of which and their locations to be selected by Deliveroo – will pay less than 50% of the standard retail price of the Burlington, which is £2,074.
"At Deliveroo, we are committed to supporting our marketplace and taking action to drive sustainability," said Paul Bedford, director of policy and sustainability at Deliveroo. "By significantly reducing the cost of a new, high-spec Volt e-bike, we hope to accelerate the trend towards a greener fleet, reducing carbon emissions while helping riders maximise their earnings – a win-win for all."
The trial "will explore the suitability of various buying options" for the select group of Deliveroo riders, Volt said, and "provides a greener and more affordable alternative to motor vehicles, especially those used by riders in towns and cities".
"For Volt to partner with Deliveroo in the UK to offer riders high-quality e-bikes at an accessible price is incredibly exciting," said James Metcalfe, founder and owner of Volt. "We look forward to seeing what impact this initial trial period can bring, and hope to continue our collaboration into the future and get more riders on more environmentally-friendly transport soon."
The e-bikes allow riders to "cover longer distances than on a traditional push bike", Volt added.
A 2019 Transport Planning Society report found across all food courier companies, 52% of riders used petrol mopeds or motorbikes, versus 35% that used pedal bikes. Only 2% were found to use e-bikes.
The primary reason that riders pedal-cycle is due to the low cost, with 55% stating cycling is inexpensive, the survey found. "Additionally, while e-bikes are an efficient vehicle choice, it is important to recognise that their cost can be equal, and in some cases greater than, a powered two-wheeler, preventing riders from adopting this choice," the report states.
Bikes are undoubtedly a better delivery method in cities due to congestion and limited parking. A separate 2019 study found a van was able to make 10 to 12 deliveries a day in central London on average, while an e-cargo bike achieved more than 30.