I'd say that the ride quality of the iQube is on par with that of the TVS Jupiter & Honda Activa. In fact, perhaps, it's slightly better thanks to the silent ride & absence of vibrations.
BHPian prasi55 recently shared this with other enthusiasts.
It's been 9 months since I purchased the TVS iQube electric scooter. I wanted to share my ownership report.
Positives
Comfortable riding position
Good suspension
Good pillion ride experience
Decent-sized mirrors
Good sales and service experience
Wide footboard
Enough storage space
Proven until now with no major issues
Decent range
Normal mode is more than adequate for city riding
12-inch front and rear tires (with a caveat)
Negatives
Range could have been more (at least 40% more)
Color options would have been nice
No fast charging
Quality is par for the course but could have been better
Background
I moved back to Bangalore in late 2013 and quickly realized the need for a scooter to manage short runs for groceries or other stuff. While exploring options, I came upon electric scooters from Yo Bikes and Ampere. Both options involved lead-acid batteries. Given my cycling and triathlon background, I decided to explore green electric scooters. Yo was quickly rejected due to poor sales experience. Ampere v60 seemed promising (range of 75 in eco mode and 55 in normal mode) mainly due to a knowledgeable dealer near my place, and I finalized it for about INR 55000 on-road in early 2014.
Soon after, in early 2015, I continued my electric journey with the Mahindra E2O.
The Ampere had a top speed of 40kmph – allowing folks without a license to use it, and served me well. I changed the battery once (damages INR 15000). After 7 years, the replacement battery went for a toss, and the 7-year itch for a new bike started.
This time, a few options with Li-ion batteries were available, and I decided to focus on the most popular ones: Bajaj Chetak, Ather 450+, and TVS iQube.
The Chetak impressed with its retro looks. But despite it being available in the KTM showroom near my place, they refused to offer a test ride. I booked the test ride online but did not get a response. Meanwhile, I also read reports about the deliveries being delayed and a price increase. Decided to move on and focus on the Ather and iQube.
I visited the Ather experience center in Indiranagar. It was pretty impressive. The Ather is one scooter with impressive build quality. The test ride proved this. The seating position was good – it felt like sitting on a bike or at least a maxiscooter. Overall, it felt very well put together. However, I was keen to test out the pillion ride experience, so asked my friend to ride. The same suspension that felt stiff yet perfect for the rider felt bouncy for the pillion. I couldn't find a good seating position and was overall quite uncomfortable.
Even so, I enquired about the pricing. This was March 2021, about a month before additional FAME subsidies rolled out. I was quoted about INR 150000 for the Ather 450+ and about INR 170000 for the Ather 450X. I was interested in the Ather 450+ despite the pricing being higher than budget, but some things put me off:
The Ather Connect Pro and Service Pro annual cost of 2,400 and 3,600 exclusive of GST
The additional cost of about 10K for a portable charger
The poor pillion ride experience
This meant that I would be paying north of INR 165000 on road and yet not have a comfortable ride experience for 2 people, my primary use case.
So I looked at the TVS iQube. The showroom was just 2 km from my place, and the experience was quite positive. I was given multiple test drives. The silent ride, plush suspension, wide footboard, comfortable ride experience for 1 or 2 people, and decent quality of components won me over. Given this was before the additional FAME subsidy, the pricing was INR 115000 plus INR 8250 for the charger. Given the comparable ICE Jupiter costs north of INR 100000 on road, this was a no brainer and I placed an order. I got the delivery in about 3 weeks.
Delivery picture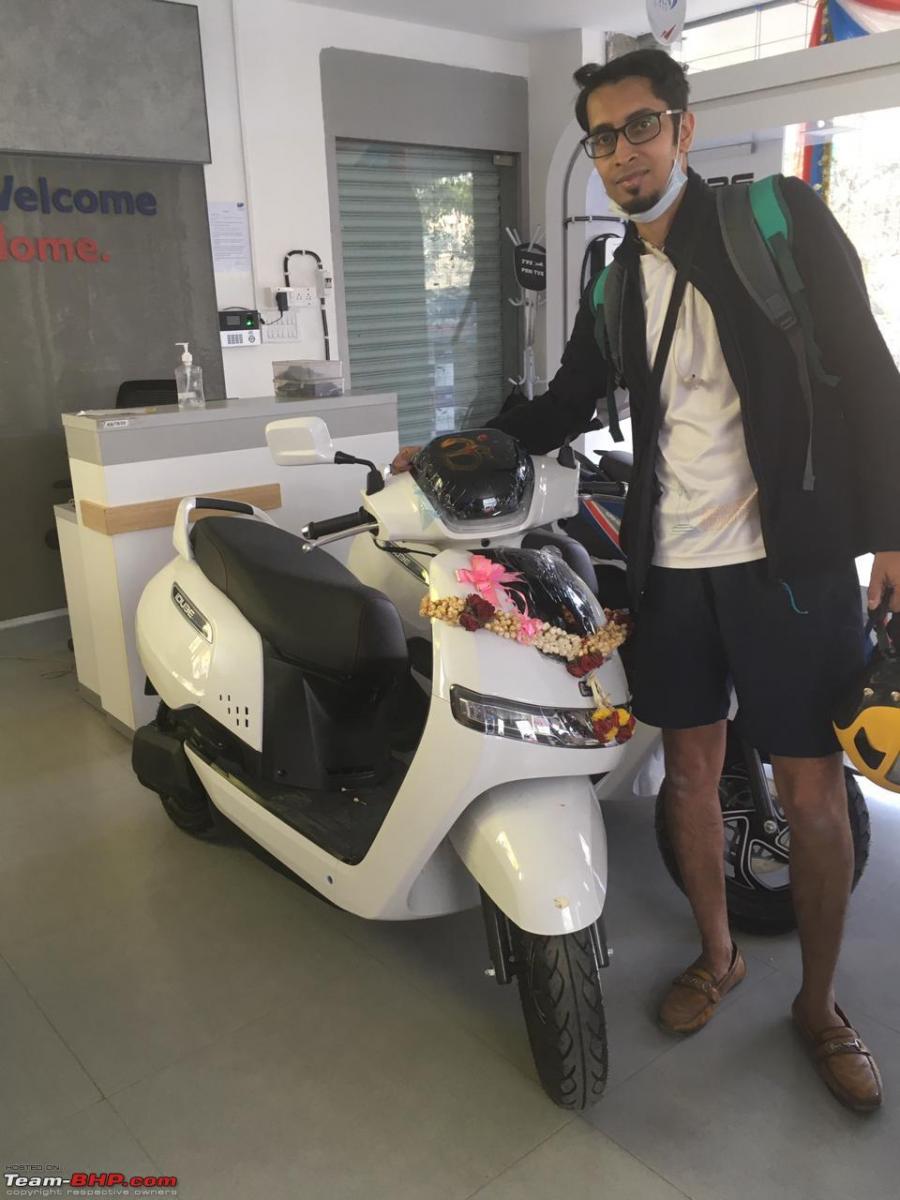 TVS iQube – what has it got?
Techincal specs:
Model: TVS iQube
Peak Power – 4.4 kWh
Weight – 118 kg
Top Speed – 78 kmph
Tyre Size – Front and rear both 90/90-12, Tubeless
Brakes – Front disc, rear drum
Suspension – Front telescopic, rear Hydraulic twin-tube shock absorber
Peak (wheel) torque – 140 Nm
Charger Type – TVS SmartXHome Charger or Portable Charger
Battery Type & Capacity – Lithium-Ion with 2.5 kWh
Battery Warranty – 3 years or 50000 km, whichever is earlier
Transmission Type – Hub drive
Lights – LED lights for Headlight, Tail Lights, indicators, position lamps.
Boot Capacity – ~20 Litres
USB Charging port – Yes (with light)
Connectivity – 4G LTE
Bluetooth – Yes
Ride modes and range:
Normal – 75 km
Sport – 50 km
Why TVS iQube?
I wanted my scooter ownership experience to be as hassle-free as possible. This meant easy access to a service center. A few friends own TVS scooters/bikes and they mentioned how prompt the sales/service teams were in ensuring good service.
I was lucky to have a good ownership experience with the Ampere v60 because I was less than 4 km away from my dealer, who was quite knowledgeable and prompt with service. However, on a couple of occasions when I had to get replacement parts, the process took close to a month on at least two occasions because the older parts had to be shipped to Tamil Nadu, their status verified and approved, and only then would the replacement parts be shipped back, and so on. This is why I chose not to consider other options such as ePluto 7g or the Okinawa series.
I also liked the comfortable riding position and plush suspension. It's a breeze to ride in traffic. Rides with 2 people on board are a breeze – literally, too, as the breeze is the only thing you'll feel given how silent it is. I take care to honk as needed so that people are not caught unawares.
Having owned the scooter for close to 9 months, I must say am very pleased with the scooter. The range has been 75 km as advertised (maybe because of my relatively light build) and I take care not to do sudden acceleration or braking, factors that can reduce the range.
I got the first service done at about 7-8 months. Recommended is every 4 months or 4000 km. The service experience was excellent and cost about INR 700.
I had an accident a couple of weeks ago when I lost balance due to the back road near my apartment being dug up and shoddily patched. I took the scooter to the service center. 3-4 body parts needed to be replaced, new stoppers needed to be installed as the handle/lock had got misaligned, and the brakes had to be tightened. I thought about claiming insurance but for some reason decided they were minor repairs and decided not to. Again the service experience was excellent. 3 new body panels, new stopper, brake tightening, along with labor cost less than INR 2500.
If there's one thing I am not very happy about, it's the tires. Somehow I feel they are of low quality (even though MRF) and don't provide enough grip. I've read that the sudden torque might cause early wear and tear of the tires, and I've been guilty of not maintaining adequate tire pressure at times (the negatives of not having to visit petrol pumps), but I still feel TVS should have provided tires with better grip.
How much did the TVS iQube cost
I booked the TVS iQube about 1 week before they increased the pricing by INR 5000, and 2 weeks before it was given additional FAME II subsidy of ~INR 14000.
I ended up paying INR 115000 including registration and insurance, and an additional INR 8250 for the portable charger. I also installed a sidestep footrest for about INR 700.
How does TVS iQube look
The scooter bears a minimalistic look. Its dimensions remind one of the ICE Jupiter, but the DRL patterns make it stand out.
Front
The front has a U-shaped theme. The low beam and high beams are stacked. The indicators are housed in the console along with the DRL. DRL and indictors are reasonably bright.
Side profile
The side profile is elegant. The lit ELECTRIC sign near the rear suspension adds a nice touch.
(Image from the web)
Will add more pictures later.
How it rides
I have completed almost 2,000 kms as of date. During this period, the following are my observations on the motor, ride and handling, and brakes.
Motor
The motor comes with a peak power of 4.5 kW. Since it is a hub-mounted motor, the torque is calculated differently from drive-mounted motors such as Ather's.
When you turn on the ignition:
The headlights turn on.
The dashboard turns on with the logo of TVS accompanied by music around 10-12 seconds from the key is turned on. At this time, you can press the brake and the riding mode to start the scooter (while the music continues).
To ride the scooter, depress the brake and press the mode switch. Then turn the throttle to accelerate. Turn the throttle in the opposite direction to apply regenerative braking.
To switch between normal and power modes, depress the brakes and press the ride mode button.
There's also a reverse park assist mode that allows you to creep forward/reverse at about 5 kmph.
Normal mode
The Normal mode restricts the speeds to around 45-48 kmph (was able to hit 45 kmph) but is more than adequate in city traffic. It has enough torque to pull on straight roads or inclines with two onboard. Ridden with a light foot, the normal mode gives me a range of 70-80 km and should give a regular rider around 70 km of real-world range.
Power mode
The Power mode provides quick acceleration and increased torque. Unlike ICE scooters, in EVs, the torque is available from the word go, so you'll find yourself overtaking other scooters in no time. Coupled with the silent ride, the ride feels like a knife running through butter.
Ride & handling
The TVS iQube handles reasonably well. The suspension is plush and comfortable. However, this and the somewhat skewed placement of the 3 battery packs means that leaning around curves doesn't feel as taut as balanced. Low-speed ride is pretty good. As I mentioned, the brakes could be a little better and the tires could do with a lot more grip.
I would put the ride quality on par with the Jupiter and Activa, maybe slightly better due to the silent ride and absence of vibrations.
Brakes
The brakes are acceptable but could be better. Given the sudden torque that EVs offer, having brakes too tight may give a jerky ride. I am okay with the braking that the iQube offers.
Regenerative braking
Regen kicks in if you turn the throttle in the reverse direction. The dash indicates the extent of regen. Hub mounted motors are supposed to offer higher regen than drive-mounted motors. To the normal user, it doesn't matter so much.
The interactive screen & the App
The TVS iQube comes with a host of connectivity features including geofencing. I haven't explored these features much.
Home screen
The home screen provides a host of information:
Motor State
Side Stand On indicator
Engine Kill Switch State – ON/OFF
Time
ODO
Speed
Ride mode
Estimated Range and Battery Charge %
Ride mode which is currently on.
Digital Speedo
Petrol vs electricity
The TVS iQube consumes about 3 kW of power for a full charge and the range you can get in the Normal mode (the mode in which the scooter is ridden by me) is 75 kms. The average cost per unit (KW) of electricity is 7.5. The cost of full charge is INR 20-25 bucks and the cost per km is about 25 paisa.
Cost per km = ~INR 0.25
No of Kms done = ~1000
Charging cost incurred = ~INR 450
Servicing cost incurred = ~INR 700
The same number of kms on the Activa or Jupiter with a mileage of roughly 35 kmpl and Petrol hovering around 105 would be:
Fuel cost = 1000/35 * 105 = Approx. INR 3000
Maintenance cost for 1000 km = (I am guessing) Approx. 1000
Gross savings with only electricity, fuel, and maintenance costs taken into consideration is INR 2850 per 1000 km. If you do an avg of 5000 km per year, you should save about INR 12000-14000 annually. If you do an avg of 10000 km per year, you should save about INR 25000 annually.
Of course, you may need to replace the battery after about 4-5 years – by which time the battery should still give you about 40-45 km range, but by then you'd have saved INR 50000 – 100000. If your daily run is not more than 60 km, then you can surely consider an electric scooter.
Verdict
The iQube is a good attempt by TVS. I have had a happy ownership experience so far. The Ather trumps it in some aspects, but the iQube doesn't feel poorly put together in any way, and even outshines it in the ride and suspension department. While not built to scale like the Ola S1 or S1Pro, it holds its own in terms of overall quality, fit, and finish. Backed by prompt after-sales and service, the TVS iQube provides a compelling package for an electric scooter.
Check out BHPian comments for more insights and information.