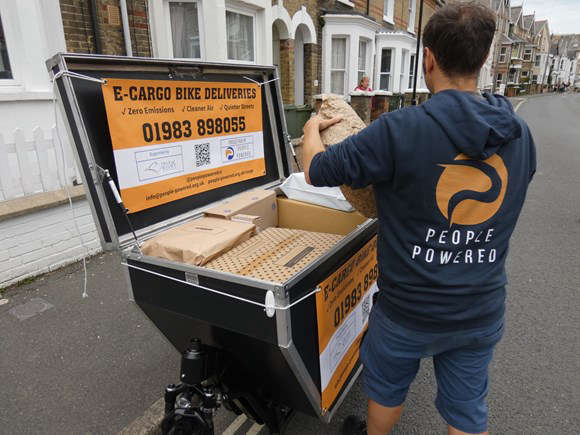 Photo image courtesy of People Powered Community Interest Company (CIC)
A two-month pilot project to see electric cargo bikes delivering goods on behalf of Cowes businesses is starting from next month (August).
The council has appointed People Powered Community Interest Company (CIC) to run the project, with support from the council's Sustainable Transport Access Fund from the Department of Transport.
The funding will see six electric cargo (e-cargo) bike demonstration events across the Island, allowing businesses to try out the bikes in a safe setting, as well as Island-wide short term free e-cargo bike loans for businesses and a free 'bike and rider' service, targeting businesses which make local deliveries.
The delivery service will start on Monday 2 August and be available for local businesses who want to make deliveries in the Cowes, Gurnard and Northwood area.
In addition to delivering on behalf of Cowes-based businesses, "last mile" deliveries from elsewhere on the Island will be received at a micro-hub in Cowes and then distributed by e-cargo bike.
Will Ainslie, Director of People Powered CIC said: 
"We look forward to piloting three diverse e-cargo bike projects in Cowes over the summer, and hope to establish sufficient demand to continue to deliver services on a commercial basis going forward."
Councillor Phil Jordan, Cabinet lead for infrastructure and transport, added:
"With the recent publication of the Governments Transport Decarbonization Plan, it is timely that we are able to announce this exciting new project. E-cargo bikes are becoming increasingly popular for 'last mile' deliveries, particularly in cities, and this pilot will allow us to understand what opportunities these present for the Isle of Wight."
The project is supported by Isle of Wight Council's Sustainable Transport Access Fund, using funding which was secured competitively from the Department of Transport to deliver a wider programme of sustainable transport projects.
Interested parties can find out more at E-Cargo Bike Demonstration (people-powered.org.uk)