This huge haul was found on June 27 at a commercial premises on Hallgate .
We have also visited several other premises where plants were recovered including 50 plants on Penistone Street, six plants at a house on Elder Grove, 70 plants from one on Balby Road, 60 plants from an address on Apley Road, 150 plants from Abbott Street and 60 plants from Bruce Crescent.
On July 2 Town ward PCSOs arrested two men following reports of suspicious activity on Jubilee Road. They were both searched and a vehicle they were using contained drugs with a street value of £80-90,000.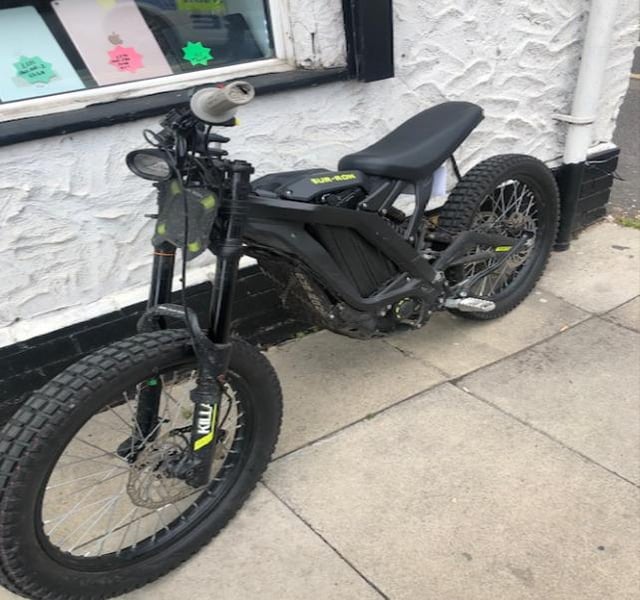 This electric bike was seized by officers in plain clothes who stopped the rider
because they suspected he was in possession of drugs. Sure enough, they recovered cash and Cannabis from him. It will now be crushed after the owner had no insurance or licence for it .
On 28 June, CCTV camera operators spotted an electric off-road bike travelling at speed along St. Sepulchre Gate and Cleveland Street.
The rider was arrested and the bike seized. Although this is an electric off-road bike it comes under the category of a mechanically propelled vehicle just like an electric car. The bike was not roadworthy as it was not registered for the road, had no number plate or a stop light.
The rider, from Wheatley was reported on summons for no insurance and no licence. The bike will more than likely be turned into baked bean cans in due course. However, this serves as a reminder to parents – while e-scooters are legally available to purchase in the UK it is currently illegal to ride a privately owned e-scooter in any public place and this includes roads, pavements, parks, town centres etc
The scooters are all subject to same legal requirements as a motor vehicle and requires MOT (if applicable) tax, licencing and insurance. Pedal operated bicycles with electric assist are legal to use.
On 5 July, plain clothes officers stopped and seized another electric bike and found cash and cannabis on the rider.
The £4,400 bike belonged to a friend who had no insurance or licence for it. The bike will be crushed.
In the early hours of July 7, a male and female were arrested at a new build property at Lakeside. Paint had been sprayed on the walls and a number of tools stolen. They were released under investigation.
Finally, our next Facebook engagement event is on Thursday 29 July, 5.30-6.30pm.