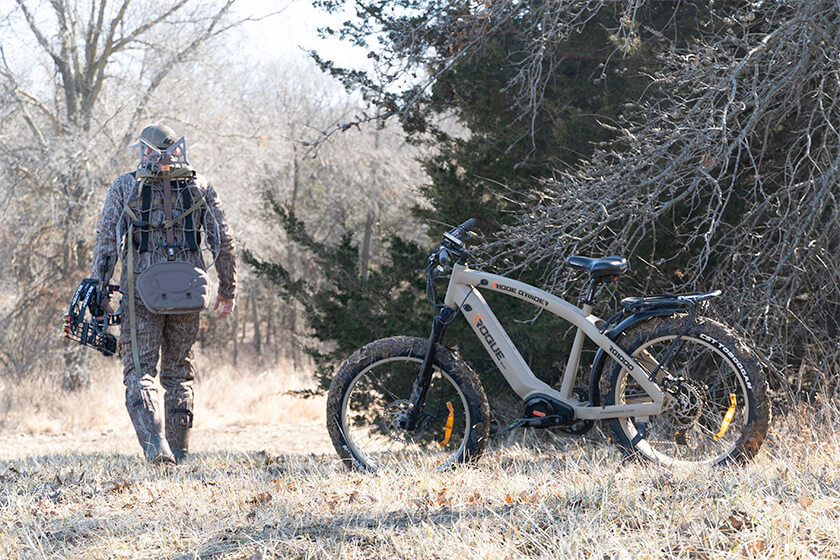 July 02, 2021
By Laden Force
As hunters are starting to become familiar with the in-season benefits of adding an e-bike to their arsenal, one of their biggest hurdles of purchasing an e-bike is the price tag. Yet, the investment will be much greater appreciated when the abounding off-season benefits are recognized.
An ongoing ingress/egress battle with an oddly shaped tract here in my home state of Missouri motivated my consideration to add an e-bike to my hunting setup. The sound and size of ATVs, UTVs or my truck eliminated these vehicles as methods of entry. And walking a near mile hike around my obstacles compromised my scent elimination process, especially when passing the bedding area. I needed a new solution to help me capitalize on the great potential of this buck factory.
Repeat problems from last fall spurred research that led to a few discussions with Lucas Mashtare, VP of Marketing – Rogue Ridge, and ended with UPS delivering a new Rogue Ridge RG 1000 in late December. Excited about the new tool but short on season, my initial experience has been an off-season venture that has proved Rogue's ROI extends far beyond hunting intervals.
The RG 1000
Before sharing my experience, let me first give you a little overview of the RG 1000 to provide insight into the mechanical capabilities offered by an e-bike. At first glance, this bike is going to resemble the lines of a high-end TREK, SURLY or Salsa fat-tire mountain bike but with more bulk to the T66 Aluminum frame. This purpose-driven build is designed to withstand the rigors of our cross-country hunting demands and the torque of its 1000-watt electric motor that takes only two and a half hours to charge with an estimated run cost of a penny per mile. With its 60-mile range and top-speed of 30 mph, the RG 1000 offers Eco and Sport modes for five different levels of pedal assist; full motor propulsion; or full manual pedal of a high quality seven-gear system, allowing the rider to operate like an everyday mountain bike. All your vitals (speed, charge, mode, etc …) are displayed on a handlebar-mounted display screen. The bike can be accessorized with front and rear gear racks or complimented by a shock-loaded single axle cart (RidgeSherpa 250) rated for 250 lbs of gear, hooking into the rear of the bike and pulled effortlessly behind.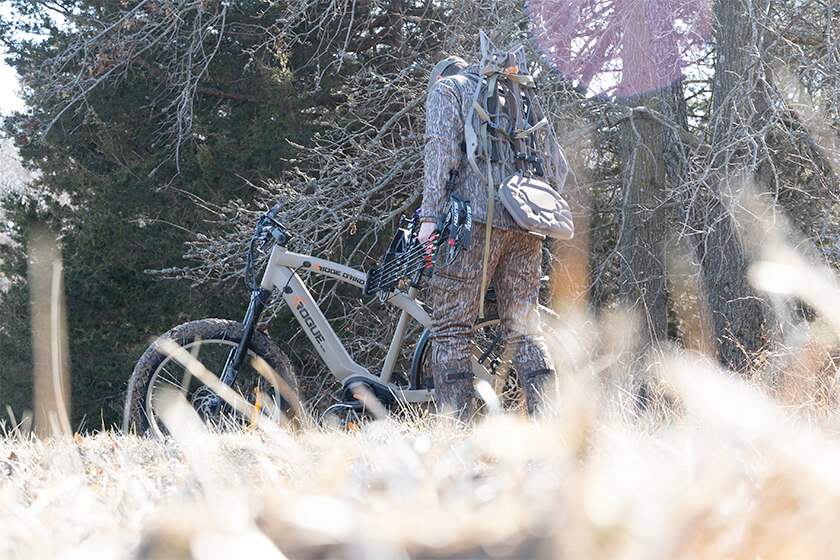 Cover More Ground
February in Missouri often reminds us that deer season is officially over and that the forsaken wait for next bow season is on. As I get older, I am beginning to realize that January 15th is not the end of the earth and that the next said "deer season" starts much earlier than September 15th. When antlers disconnect at the pedicle in January and February, my first step into next season commences, covering 900 acres of hunting ground across several different farms seeking the fallen antlers. Shed seasons prior have meant a lot of miles by boot and never enough time to cover it all.
After a long February day in the office, I took my first "shed ride," hoping to use the new RG 1000 and the little bit of daylight left to cover half of an 80-acre tract. The bike wasted no time proving the strength of electric torque as I climbed a 75-ft bluff in the bike's second lowest level of pedal assist with ease. My ride weaved through timbered staging zones, thick bedding cover, thawing mud, waterways and ditches, only hopping off to pick up my first four sheds of 2021. As the final minutes of light disappeared and a bright full moon rose, I had finished a complete sweep of 80-acres in just under 60 minutes, literally hours less than it would have taken me on foot. The Rogue had my attention, proving the claimed trekking and efficiency benefits of the e-bike.
A week later I was back on the bike with an allocation of four hours, granted by my wife, with the objective of testing the range of a fully charged battery. The destination was a 240-acre tract located six miles north by gravel road, where I hoped to find the sheds of a couple bruisers that avoided me last fall. Three hours and 29 minutes later, I was pedaling back into my drive, having covered 16.25 miles and 1,004 ft of elevation gain with my biggest shed of the spring in tow and 41% of my battery life remaining. Again, capability and range were proven by the RG 1000, covering the 240 acres and 12 miles of gravel more effectively than ever before with respectable battery capacity intact. The ride was a bit cool but quickly forgotten with occasional pedaling and realization of how much more productive of a shed hunter this new tool was allowing me to be.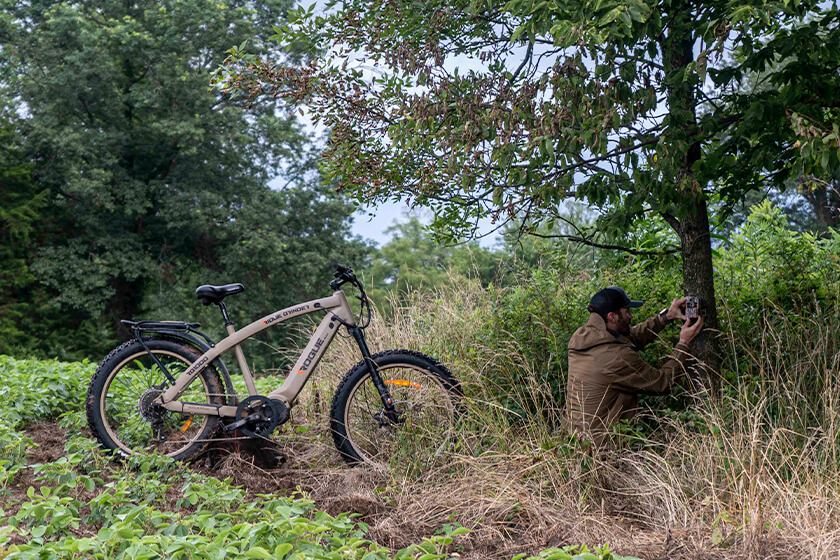 Trail Cam Scram
Post shed season and a little turkey hunting, two major responsibilities were awaiting me… land prep for management and herd surveys. While land prep usually demands the capabilities of a much larger machine, trail camera deployments to survey surviving bucks and fawn recruitment offered the perfect opportunity for me to test the convenience of an e-bike over some of the bulkier transport options. I loaded the RG 1000 on the hitch-rack that I had recently purchased from NorthernTool.com, a piece of equipment that usually requires ownership of a Subaru (not a Super Duty) but is also a handy accessory that allows for easy loading and more room for hunting gear in your truck bed. Loaded much lighter than years past, I was on my way to distribute my first round of trail cameras.
I was quickly impressed by the convenience of a much shorter unload and scoot deployment that the Rogue Ridge allowed. Compare this to hooking up the trailer, loading a UTV, stopping for gas, unloading the UTV, etc. Employment of the RG 1000 consisted of loosening only a cam-buckle strap and setting the bike on the ground- more simple and much less expensive. Aside from less load and unload time between farms, I was able to sneak from each camera placement with the absence of banging trailer gates, engine noise and residual gasoline fumes. I was lessening my level of human presence imparted on the farms and the deer inhabiting them, in turn leaving the ecosystem less disturbed.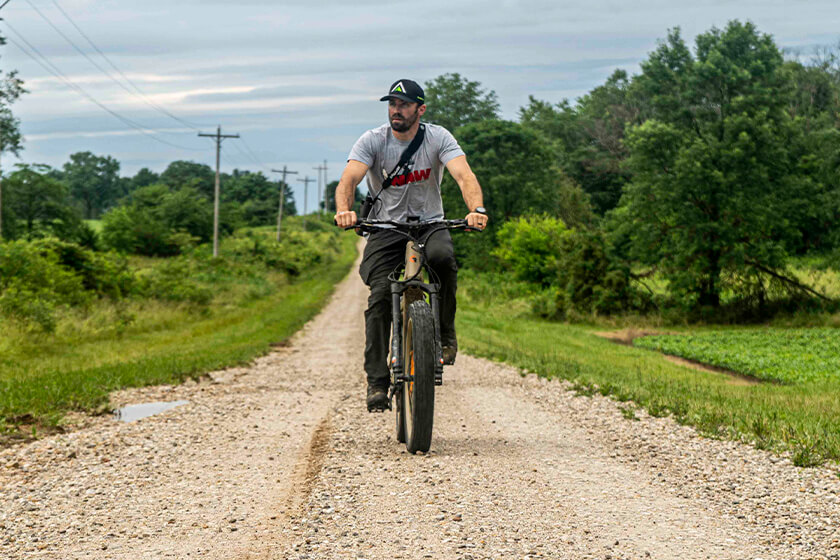 E-Scout of the Second Kind
A quick Google search for the term "E-Scout" and you'll likely be presented with a list of YouTube videos about using our mapping apps for scouting. Yet, I am referring to the process of hopping on a Rogue Ridge to do one of two things…
First, the activity of taking your summer scouting rides on an e-bike instead of in your truck. There's nothing like cruising gravel roads with a good set of binoculars and a cold cream soda on a warm July evening, seeking bucks of interest to pursue in the fall; it's a proven method, but I always fight seeing the deer before they hear my engine or the crackling gravel under my truck tires. By replacing my truck with the RG 1000, I have already noticed my approach allows much closer proximity to the deer. The smaller profile of the e-bike paired with the discrete sound of the 1000-watt electric motor has allowed for imminent and longer surveillance of several bachelor groups. This tactic has even worked successfully for me on a couple of field roads, where an approaching truck would have never been permitted by the feeding deer.
The second activity is a more intimate type of scouting that I enjoy- getting in the summer food source with the deer. Recently, I have been riding the Rogue Ridge to an observation post in the middle of a soybean field housing a good summer bachelor group. In years past, my ¾ mile approach has been a sweaty walk in 85-degree temps because hiding a UTV, ATV or truck would not be permitted. With the e-bike, I can slip in with the quiet assistance of the electric motor, letting the bike do the hauling of all my gear on the accessory rack and effortlessly hiding the bike behind an old fence corner due to its small profile. The silent motor offers another advantage as darkness sets in on a field full of deer. Using the Rogue Ridge, I have been able to exit as inconspicuously and swiftly as I entered, promoting the uninterrupted use of their primary summer food source. I suspect this will become even more valuable as the season nears and I am trying to pinpoint my hunt strategy without bumping a keen old buck.
E-Hangin'
All off-season benefits presented so far have been scouting-based, but there is one activity, more hunt-based, that a good e-bike option like the RG 1000 is sure to find favor with. Hanging stands, a product of all the exercises discussed, is a task that every hunter wants to do with as little disturbance as possible.
As mentioned earlier, my RG 1000 was delivered just before the end of our archery season here in Missouri, which allowed a single opportunity to hang a late season Lone Wolf set. What I uncovered in doing so, was the packing capability and opportuneness provided in hang-n-hunt situations. Instead of a long hike with gear attached to every limb of my body, I simply strapped a Lone Wolf Alpha 2 with four sticks to the rear accessory rack, secured my Bowtech to my pack and threw my pack over my shoulders. The ride was stress-free, noiseless and when 10-plus deer unknowingly crossed my tire tracks later in the sit, proved how little residual impact is left behind. All of which are benefits that will prove to be equally valued when hanging early sets for our first sits of this fall.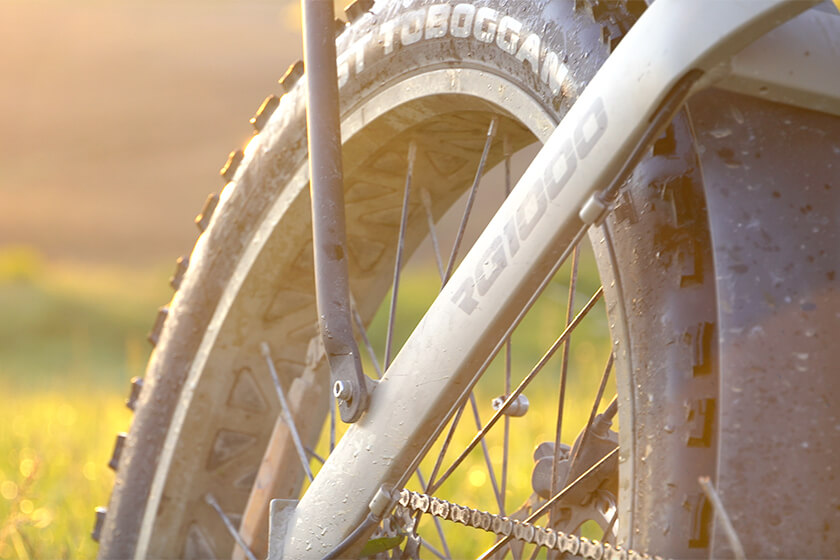 Get Physical
Though we all know that you don't have to run mountains to shoot big whitetail bucks, I'd be foolish to not address the physical benefits that an e-bike offers. In full manual mode or all levels of pedal assist, some physical input is involved from the rider. The physical investment can help promote lung capacity and cardio health at even the slightest level of intent, both of which can improve your level of efficacy and capability serving great utility when that big buck steps out this fall. I have integrated the RG 1000 into my summer training regimen, where I am using the bike two to three times a week in manual mode as my cardio exercise. It's hard to beat improving heart health while joy-riding to find your target buck for the year.
The Wrap
Though whitetail hunters can often justify a pricey expenditure, a four-digit price tag often requires a debate with your conscientious self or circumspect spouse. Restricting the usefulness of that investment to only one-third of the calendar (hunting season) and not understanding all its utility, can further work against approval of the purchase. When I started to tally the above benefits offered by an e-bike along with in-season benefits and associated costs, I prepared a very basic estimated cost-comparison that shed further light: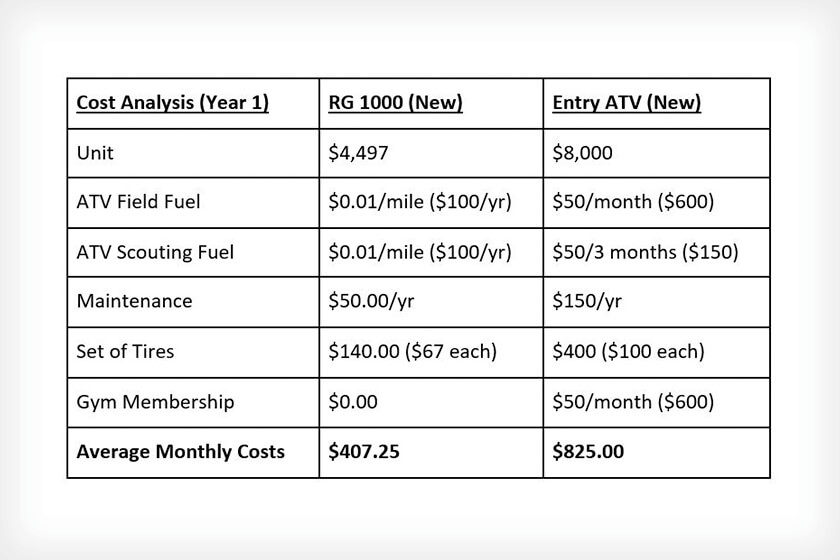 End all, if you are looking for a less invasive, more efficient and more easily towed vehicle alternative, an e-bike is one that can help you more discreetly reach your destination and is worth the consideration. In doing so, I can reassure that the off-season competencies can prove just as advantageous as our more often vetted in-season benefits and should definitely be included in your evaluation. My experience, provided by the Rogue Ridge RG 1000, a well-constructed, efficient and designed with the hunter in mind, was a favorable one. I look forward to the assistance it will provide during the 2021 hunting season.