A UK engineering success story, Pendle Bike Racks' roots started with a client request and have grown from there. We speak to MD Chris Smith in the midst of a perfect storm for staycations to hear more about the opportunity to sell the family getaway by bike…
How's trade for Pendle been throughout this strange period for the world?
At the start of the first lockdown business slowed considerably. However, by the time the first restrictions lifted we saw a significant increase in website traffic and enquires. Sales grew month on month and August saw us have the most hits on our website since we started.
This year has started off slow, but we are still in some restrictions. We are getting good traffic to our website consistently though. We have pushed our major relaunch, not just on the racks, but also of the rebrand this year, which we know will take a little time to gain traction.
Tell us about the business and its UK production capability – what is the size of the workforce and the units your produce annually?
We are a family run business and have been since 1977. Pendle Bike Racks was born in 1988 from one of our engineering clients asking us to build them a cycle rack. Things progressively grew from there.
Steven Smith who started the company with his brother is still very much part of the day-to-day running of the business, while other members of the same family now work in different parts of the business.
Our company works from two sites on the same estate in central Lancashire and caters for some very large well-known clients within the engineering side. We are working to expand Pendle Bike Racks into an industry go to name for cycle racks and strive to make our products better each year.
From design to production we have around 100 staff who do everything in-house, from coming up with a new or improved design to making the prototype, testing and tweaking it, to final production.
Our production capability is open ended, as we make everything on site, we can turn on and off demand as and when needed. This is a great asset to us as our customers do not have to wait long for shipments, customs or other hurdles they may experience with alternative EU or worldwide manufacturers.
Currently we are producing around 2,000 units per annum, but we are expecting this to double in the next 12-18 months. We are immensely proud we are a British label doing what we do, and we hope this aspect will help in the years to come following Brexit.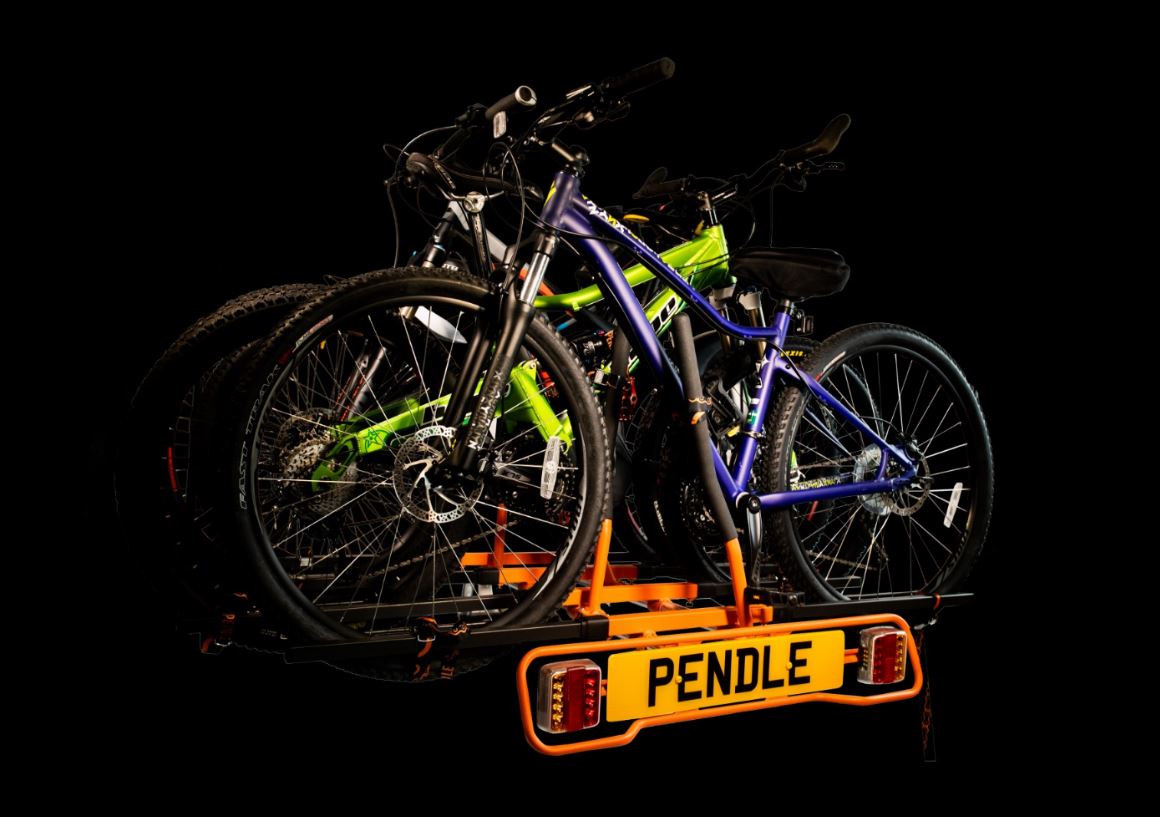 For the uninitiated, what products do you offer to the cycle trade and can shops arrange rep visits when permitted?
We offer our full range, be that cycle racks, storage solutions or even trailers.
The cycle rack portfolio is made up of wheel support bike racks and hang on bike racks which come either towbar or tow bracket mounted (both fitments are inclusive with each rack). Both have options for up to four bikes.
Our Trike rack is very popular. For this we offer an option which allows an extra bike to be transported with it too, and we are the only UK manufacturer of such a rack.
The trailer range consists of a Family bike trailer, which can take up to 6 adult size bikes and our Professional bike trailer, which can take up to 12 adult size bikes. They both have adjustable wheel supports, and we can offer these fully built.
Finally, storage solutions are offered for your customer's garage to either mount the racks or individual bikes, along with bike parking solutions like our 'Sheffield stand'.
With electric bikes taking market share bike racks need to consider the often-higher weight. Do you have e-Bike suited racking?
All our racks are compatible for use with e-Bikes! Most have a maximum weight of over 65Kg, which should be more than enough for modern bikes. Again, we understand the growing use of e-Bikes and Trikes for that matter and will continue to follow this side of the industry closely to ensure we are always accommodating these types of cycles.
Recent trends have prompted a deeper assessment in our testing, so we looked at the average weight of e-Bikes and bikes to better understand how we can further develop our racks to start accommodating these with ease. Similar to the Trike racks we do, we wanted to make them useable with over 80% of the market so we looked at wheel sizes, weights, and variations to ensure we can produce a rack to suit most of the market.
Testing our racks involves loading with weight and real-world weight testing whilst driving. We then go through its build quality, ease of use and loading along with comparison in the market.
Do you find bike shops take an interest in your parking infrastructure products?
We do. Our storage solutions are entering a revamp stage as we change to our new corporate colours of Orange and Grey. This is a product group we continue to develop with new solutions.
We have some exciting new products in development due to come in the next 12 months to complement the range we already have.
Our Outside street rack products have been targeted at the commercial side of the business; however, this is something we intend to facilitate into our retail ranges soon.
When buying a rack what are the signs for quality production and what cut corners should a consumer look out for on value products?
Have a good look at the rack – how is it constructed? Check what weight it can carry and how your bikes will be secured to it. We see a lot of plastic these days which can be easily damaged, so for that reason we do not use any injection moulding or plastics. We use the best materials and processes available, and our testing is rigorous – we want our customers to be confident that when they are putting their expensive bike on the rack it's going to still be there when they get to their destination.
From a shop's perspective a bike rack is a big item to hold in store – what is your buy in requirement if any?
This year has seen us open our B2B trade platform, which mirrors our normal website. Our trade terms offer a range of discounts dependent on the retailer's commitment.
We do not tie any stockist down to having XYZ stock. We know at Pendle Bike Racks we are moving into a new age of buyer, where having a product in stock is not always necessary, however, we do offer some incentives for doing so. We would encourage a potential stockist to get in touch with us first so we can see and help with what they feel would suit them best.
We have some options for stockists to display the 'live' product. Obviously we recognise that shop floor space can be at a premium, but we do encourage displays; it is the best way to sell. Using the racks can double up a display of shop bikes, creating a clever piece of merchandising. A range of POS and information is coming to help stores with no space for stock.
Our philosophy is to always be available to help the retailers be that with selling, fitting, aftersales warranty, or spares.
We encourage retailers to ask their customers: "how will you transport your bikes once you have them or how will you get them home?"
What are the key points to relay from a shop sales point of view to help the customer decide what to buy?
First and foremost, identifying the need is paramount. How many bikes; what type and size; are there any kids' bikes involved?
The next step is to establish whether the customer wants a towbar mounted bracket, or would like to fit on the ball – as with say a Swan neck type bar. Furthermore, is there a preference in wheel support or hang on type mounting?
All our Pendle bike racks come complete ready to use out of the box, so that's helpful from a sales point of view; the lighting board, tools, mount and straps are all included. We even now offer a lifetime ownership guarantee.
We are here to help the retailers, so if they are ever unsure, they can always contact us for advice.
For bike business with a touring element, or bike parks, your trailers look robust. What are the limits of these and where might we find them being used?
Our trailers continue to be great sellers, not just to the public but to local authorities, the military and private businesses too. We have sold to a wide range of customers, even a tour company in Saudi Arabia!
The limits only really are the number of bikes they can take, but as with everything we are always looking to move and improve our products.