Jeff Salter, chief executive officer of Caring Senior Services, is biking 9,000 miles cross country in four months to raise awareness to gaps in senior care.
Last week, his journey took him to Caring Senior Services in Gainesville, one of his franchised locations. He plans on biking to all 45 around the U.S.
"I am so proud to be associated with this organization. What CEO do you know that will put themselves on a bike for four months and ride 9,000 miles for a true community cause? It's amazing," said Wayne Mitchell, owner of Caring Senior Services of Northern Virginia in Gainesville, at 14540 John Marshall Highway. The company provides in-home, non-medical care to seniors.
Salter, 50, said he decided to take on the journey to celebrate 30 years of his business "and launching this Close the Gap in Senior Care [campaign] was a good way to for me to focus on the next 30 years."
Salter said he decided to make the journey on his electric bike to raise awareness of the movement and to raise money to purchase and install grab bars for seniors through his "Grab the Bars" fundraiser. His goal is $100,000.
"I thought it would be an interesting way to accomplish our goal," Salter said.
Salter finds symbolism in his e-bike. "Not only does it help me get up those hills a little easier, it's a symbol of assistance. We all can use a little help doing things, and we all can achieve amazing things when we get a little help," he said. 
On a regular touring bike, a cyclist can ride about 30-60 miles a day. On the e-bike, Salter is managing 80 to 120 miles a day, he said. 
Salter said the reason he is focusing on grab bars in the Close the Gap campaign is because falls are the leading cause of deaths among seniors, and 80% of falls happen in the bathroom.
"Installing grab bars [is] a simple and cost-effective solution to that problem," he said. "We really wanted to find something we could engage the general public with, as a way they could contribute and impact these numbers." 
"In Closing the Gap, we wanted to first focus on fall prevention and senior safety and this was the perfect match for that," Salter said.
At the end of his Close the Gap journey, the grabthebars.com website will include a way for seniors to apply to have grab bars installed in their homes.
"The awareness of the importance of grab bars is more important than the expense of having them installed," Salter said. "When families learn what the statistics are, they quickly say, 'Oh my gosh, I need to do something for my loved one.' Preventing falls is something they can do and it's not that expensive."
Seniors may be reluctant to have them installed, thinking they never needed them in the past and don't want to put up something that might make them seem feeble, Salter said.
Salter is asking people to do a grab bar challenge by going to seniors in their lives to see if they have grab bars installed. If they don't, work with them to get one installed.
"As we get older, we become more unstable moving around. Putting a grab bar up is often an afterthought," Mitchell said. "You don't think to put a bar up because you're used to holding on to that corner or that counter. So, for us to be out there helping them to get grab bars when they really need them is so important."
Where and how to get grab bars locally
"Grab bars are just one element of keeping seniors safe in their home so they can age in place," said John Swirchak, executive director of the local Project Mend-A-House.
Project Mend-A-House volunteers help mostly seniors, veterans and the disabled who can't afford to complete much-needed home repairs that can help them live safely, securely and independently in the comfort of their own homes. Its services are open to Prince William-area low-income residents. Grab bars are the second most requested service behind wheelchair ramps.
For those who don't qualify for Project Mend-A-House's help, Swirchak advises seniors to contact an occupational therapist from an in-home, non-medical organization for guidance and help. He also recommends www.seniornavigater.com.
Swirchak said grab bars can be installed by a senior, a family member or a handyman, "if [they] knew what [they're] doing." 
"There are codes that we have to follow when we do them. It's something I would recommend a professional firm install for you, someone certified to make these kinds of modifications," he said.
Aside from focusing on grab bars, the campaign wants to highlight all the gaps in senior care such as more local funding for seniors, more caregivers and technology that would help them age in place.
"I'm here to help spark the conversation," Salter said.  
"The trip has been fantastic and we've met lots of people," he said. 
Salter began his journey in his hometown of San Antonio, Texas, on April 1. He and a riding partner have followed a route that take them mostly along back roads. The began the journey heading east and north and stopped in Gainesville along their trek up the East Coast. Then they'll head west across the  and sleep in the tents they trailer with them or in hotels when the weather is bad. His arrival in Gainesville tallies his biking at 2,623 miles thus far.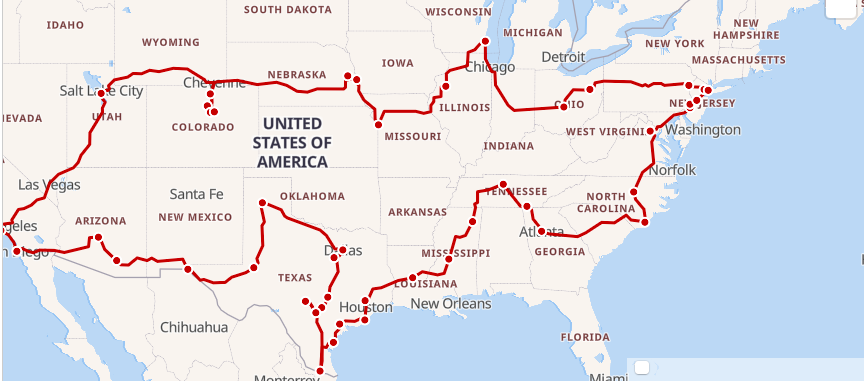 "People have recounted to us stories about their parents or grandparents who have fallen and have gone through the process of looking for care or installing grab bars" he said. "It's pretty powerful to hear those stories directly."