Five people including a five-month-old baby were hospitalized in southwest China on Monday after an electric bike caught fire inside a residential building elevator.
Viral footage of the incident—seen nearly 20 million times on China's largest social media platform, Weibo—captured the moment the crowded elevator became filled with smoke and fire in a matter of seconds.
The incident, still under investigation by authorities in Chengdu, capital of the Sichuan province, left the five-month-old girl and her 55-year-old grandmother needing critical care at a local hospital, reported China News Service.
The remaining victims—two males aged 25 and a third aged 20—suffered less serious injuries but remained at the facility for treatment, the state-owned outlet said.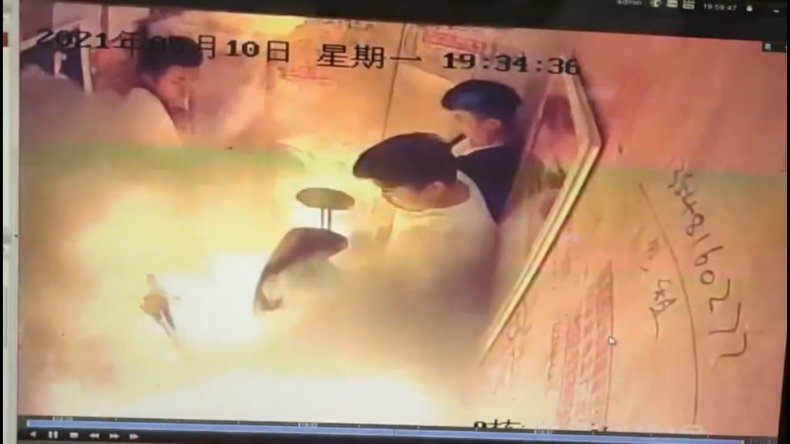 Surveillance video circulated on Chinese social media sites showed the grandmother, named Yang Xiuqing, holding the baby girl while standing in the corner of the elevator. One of the three men near her is pushing an electric bike—one of the most popular forms of transport in the country.
As the elevator doors close, all four adults look down at the floor as the e-bike's battery appears to emit thick black smoke. Seconds later, the elevator is engulfed in flames.
A social media video taken after the incident showed a seemingly badly burned Yang sitting outside the building and holding her injured granddaughter in her arms. Most of her clothes appeared to have been seared off in the fire.
In another clip, Yang is seen inside an ambulance as paramedics and firefighters arrive on the scene.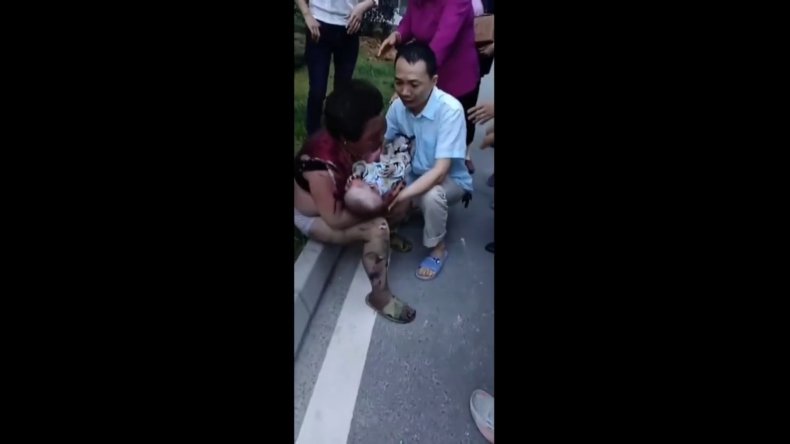 According to a report by Shanghai-based The Paper, Yang suffered burns on 75 percent of her body and underwent surgery. The baby's father was told the infant is in critical but stable condition, the website said.
Among the five victims, the child suffered the most serious injuries, The Paper added in its report on Tuesday.
A statement by the Chenghua District emergency management office said an investigation into the fire was still ongoing. A spokesperson told The Paper officials were also looking into whether the e-bike had been illegally modified, which could have consequences for the owner, who was not named.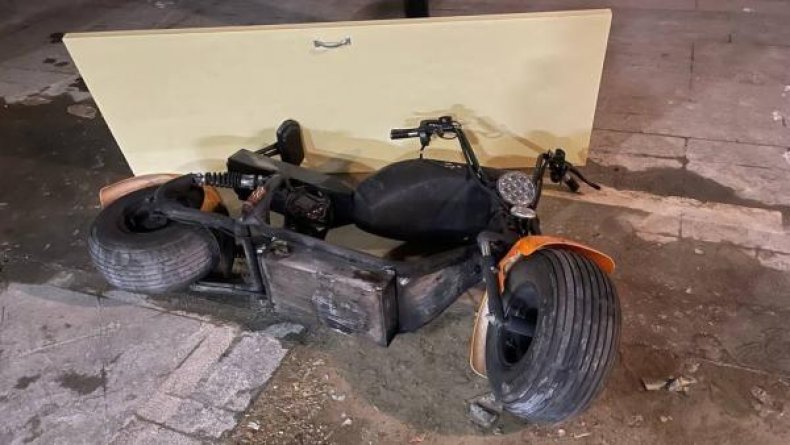 Electric bike safety regulations in China stipulate both speed and battery size limits. An image of the e-bike in question appeared to show it had thicker and suspected modified wheels, but it was unclear whether the motor had been tweaked.
Congshu Jiayuan, the residential area where the incident took place, said it has a policy of forbidding e-bikes inside elevators or stairwells. However, the rules did not appear to be strictly enforced.