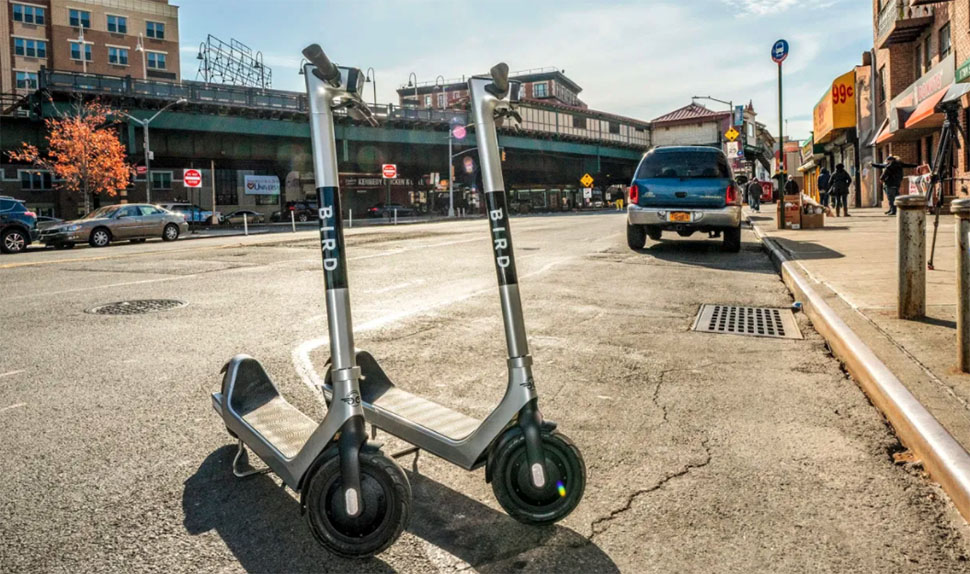 Bird Rides, a leader in the electric scooter-sharing market, is set to become a public company through a merger with Switchback II Corporation, a Dallas-headquartered special purpose acquisition company.
The definitive business combination agreement states that upon closing, the combined company will be named Bird Global, Inc. and be listed on the New York Stock Exchange. The implied valuation is $2.3 billion, according to TechCrunch.
TechCrunch reports that Bird raised $160 million in private investment in public equity by institutional investor Fidelity Management & Research Company LLC and others. That was supported by an additional $40 million in asset financing provided by Apollo Investment Corp. and MidCap Financial Trust.
Per its news release, Bird also previously raised $208 million as part of an April 2021 Senior Preferred Convertible equity offering led by Bracket Capital, Sequoia Capital, and Valor Equity Partners.
Founded in 2017, Los Angeles-based Bird is today known as an electric vehicle transportation company that brings environmentally friendly solutions to more than 200 cities across the world. To date, it has facilitated more than 95 million rides.
Bird says it closely partners with the cities in which it operates to offer an affordable transportation option for the people who live and work there. It was one of the first companies to develop the shared electric micromobility model in a market that has grown to be around $800 billion.
"Bird was founded with the mission to provide environmentally friendly transportation for everyone," Bird Founder and CEO Travis VanderZanden said in a statement. "Since 2017, we have driven adoption of micromobility which has resulted in rapid growth. During this time, we have advanced our operating model, supported by proprietary technology and hardware, to scale our mission and reach more cities. This foundation has driven our strong unit economics and delivered our successful track record to date."
The capital investment looks to ride the strong tailwinds of the COVID-19 pandemic, which includes potential regulatory changes, operating model improvements, and industry consolidation. The team sees Bird capitalizing on significant growth opportunities with a scalable path to profitability. 
Switchback II Corporation was formed with a strategic focus on the energy transition sector or sustainability arena. It targets industries that need innovative solutions to "decarbonize in order to meet critical emission reduction objectives."
"As a category creator for the shared micromobility space, Bird has capitalized on its first-mover advantage to address the significant market opportunity while also providing an efficient and eco-friendly transportation alternative," Switchback Co-CEOs and Directors Jim Mutrie and Scott McNeill said in a statement. "With its market leadership position, experienced and innovative leadership team, compelling current revenues and business model, along with identified levers for growth, Bird satisfies all the investment criteria we were seeking and we are pleased to announce the definitive agreement for this combination."
Dallas' storied scooter history
Bird's fleet of shared electric scooters first rolled into Dallas in 2018 after the City Council legalized them. 
The introduction of scooters/bikes to Dallas stirred activity in its urban core. It wasn't uncommon to see small packs of scooter riders migrating from Deep Ellum to Downtown Dallas. Scooters clustered outside popular lunch and dinner spots on Akard Street.
Between August 2017—when Lime bikes were introduced in Dallas—and March 2019, scooter and bike riders took more than 1.4 million trips in the Dallas region, according to the Lime analysis. More than 3,000 e-scooters—from Lime, Lyft, Jump, Bird, and others—were deployed in Dallas as of April 2019, according to the City of Dallas. At the time, scooters largely supplanted rental bikes in Dallas.
---
READ NEXT Getting a Handle on Scooters: Data Helps Shape Dallas' Two-Wheeler Policies
---
But, in September 2020, the Dallas Transportation Department halted the city's scooter program, requiring all operators to remove the 'vehicles' from the streets. The decision was made in consultation with the Dallas Police Department based on public safety worries, the Dallas Observer reported.
They could return soon though: Last week, Ford Motor Company's Spin brought its electric scooters to Texas to showcase its technology to local city officials, business leaders, and neighborhood organizations.
Spin seeks to help combat Dallas' past issues. Through its on-vehicle artificial intelligence platforms, its users can make safe decisions when it comes to sidewalk riding and unacceptable parking habits.

Get on the list.
Dallas Innovates, every day.
Sign up to keep your eye on what's new and next in Dallas-Fort Worth, every day.