Day Zero, on High Street, has launched the service in response to changing customer demand over the past year.
Owner Mark Day said: "We're known for being a zero waste shop, where customers refill and reuse their own containers time and time again, but there's so much more to what we do. Many people won't realise how much work I do to source products, working with suppliers who uphold the same ethical standards.
"That makes us a very different place to shop than a supermarket; we won't stock big brands, instead choosing small family companies, co-operatives and those businesses that divert money back into impoverished communities around the world."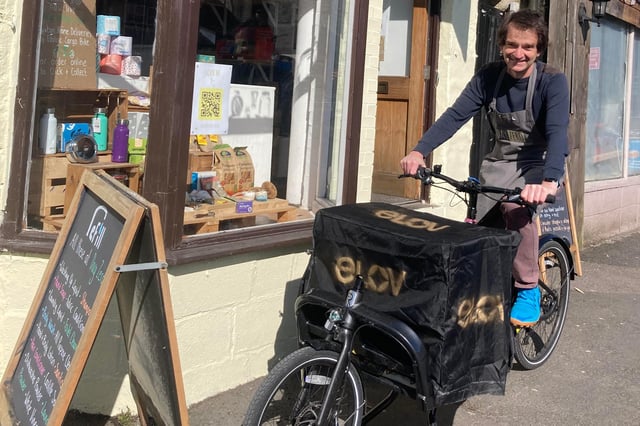 Day Zero owner Mark Day with his new electric cargo bike.
He added: "Like many small businesses we've had tough trading conditions, even though as an essential business we stayed open. We adapted our shop, opened for longer and delivered to people's homes to make sure they could still get their regular orders from us.
"I want to get our message out to many more people and we've just launched an online shop. Our website is loaded with everything we sell in store, and our green delivery services really make it stand out."
The electric cargo bike has been supplied by Macclesfield company eLOV, and Mark hopes the service will set an example to neighbouring retailers.
He said: "We know what a powerful and caring community we have around us and want to demonstrate a simple and viable zero-emission delivery service that other businesses can adopt to lower their carbon footprint.
"Reducing van and car journeys around town benefits us all, making the town centre a more pleasant, safer, less polluted place and the streets safer for our children."
He added: "We want to see eLOV bikes being used all over town and there's a huge opportunity here to get on board and make a real difference as our lives get back to some sort of normality in 2021."
As well as home deliveries, the shop now offers a click-and collect service, including remote pick-up locations in Whaley Bridge, Chapel-en-le-Frith and Chinley. For details, see www.dayzeroshop.co.uk.
Businesses who would like to know more about e-bike delivery options can email Mark at dayzeroshop@gmail.com or contact eLOV at hello@elov.co.uk.
"In these confusing and worrying times, local journalism is more vital than ever. Thanks to everyone who helps us ask the questions that matter by taking out a subscription or buying a paper. We stand together." – Louise Cooper, editor.