Sunderland will begin an electric scooter rental trial on Wednesday (31 March), backed by accident prevention charity RoSPA.
The launch will see the first of 300 e-scooters deployed across the city under a 12-month trial operated by Neuron Mobility in partnership with Sunderland City Council.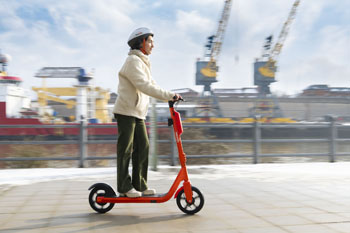 It comes soon after the company launched in Newcastle. Neuron said that as fleets of its e-scooters are now available at both ends of the Tyne & Wear Metro, they will provide an integrated first and last mile alternative to other forms of transport.
The e-scooters are GPS-enabled and geofencing technology is used to control where they are ridden, parked, and how fast they can travel in certain areas by creating slow zones, no-ride zones and no-parking zones. Each e-scooter will be fitted with a unique plate.
Neuron said it is deploying a dedicated safety team as part of the trial, which will be moving e-scooters to where they are needed most, assisting new riders with signing up on the app, delivering practical tips for safe riding.
CEO Zachary Wang said: 'Safety is our top priority; it dictates our e-scooter design and also the way we operate them. Our e-scooters are packed with cutting-edge safety features and our safety course and riding guidelines have been co-developed with the Royal Society for the Prevention of Accidents (RoSPA), the UK's leading accident prevention charity.'
Nathan Davies, executive head of policy and portfolio, at RoSPA said: 'We see micromobility as an important part of the transport mix going forwards, and we launched our partnership with Neuron because of the company's core focus on safety. We are confident that with good user education, protective equipment and the technical interventions available on Neuron's e-scooters, we can create a safe, efficient and desirable way to travel around Sunderland.
'Ultimately, it is every rider's responsibility to ride safely and follow the rules. All riders should make sure they look out for their own safety and also the safety of others. Don't ride under the influence of alcohol, only one person should ride an e-scooter at a time, stay aware, and always wear a helmet.'
Neuron said its e-scooters have larger wheels and wider footplates than other e-scooters and feature an app-controlled helmet lock, which secures a safety helmet to the e-scooter, electronically releasing it to use at the start of the booking.
The company will use a topple detection feature that alerts its operations team if an e-scooter has been left on its side so it can quickly be repositioned safely. There will also be a range of 'smart parking' initiatives to incentivise and promote safe parking, many of which it said are a first for the UK.
The e-scooters, which can be turned off remotely, will not be available for use between 11pm and 5am.