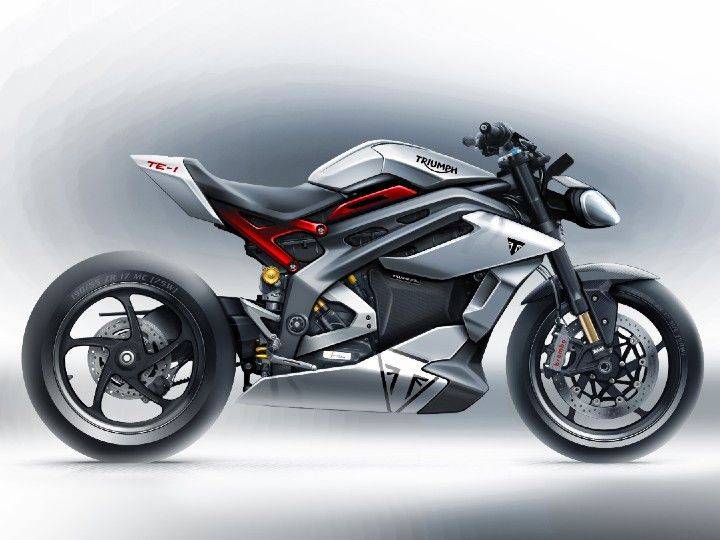 Almost all two-wheeler giants have revealed their future EV plans and the latest one to join the bandwagon is Triumph. The brand has revealed the first details of its two-year project, codenamed 'Project Triumph TE-1,' and you can check them out in our dedicated story. From what we know, the project seems to be in full swing with Triumph revealing several details of its future electric bike. So here are the top five highlights of Triumph's first-ever electric project that you should know: 
Signature Styling

Since the production model is far from ready, Triumph has sent us some sketches depicting how it wants the EV to pan out, and it's safe to say that it'll hoist Triumph's signature styling. The sketches show bug-eyed headlamps with LED brows (probably borrowed from the Speed Triple 1200 RS), alloy wheels, grey monotone livery, and a standout red frame. Its battery pack will rest in the fuel tank area with a compartment to access the charging port.
Juicy Battery

Triumph has collaborated with Williams Advanced Engineering, a UK giant, for its electric motorcycle's battery pack. With technology evolving every minute, Williams has built the module in such a way that it is light and compact yet providing an excellent range. According to the officials, the battery has been simulated to take on track riding too. Engineers at Williams have also worked on a special ECU to keep the regular motorcycle functions in check.
Meaty Powertrain

Triumph's naked motorcycles are usually performance-oriented and its first EV will not be any different. Triumph has teamed up with Integral Powertrain's e-Drive division to ensure the TE-1 is as performance-oriented as possible. Integral Powertrain worked on a special custom-made motor for the TE-1, which generated a massive 180 horses during its testing process while weighing just 10kg. Official numbers will surely differ from the testing output once power losses are taken into account but the TE-1 surely looks promising.
Thoroughly Tested

To carry out the necessary simulations and ensure every element works cohesively, Triumph called in engineers from the University of Warwick's WMG. Basically, Warwick's job was to test the components for their ability to withstand battery loads. Each component was held together properly and the battery life was found reasonable, making the motorcycle more or less ready for the real world.
Same-old Recipe

Under the skin, Triumph's TE-1 packs the very potent perimeter frame that has been lauded for its edgy characteristics. Along with this, the TE-1 sports a USD fork and a monoshock while braking duties are performed by twin discs at the front and a single disc at the rear. One wouldn't be crazy to expect the British manufacturer to throw in Brembo M50's in the mix too.