Its been another rough week for bike retailers across the country with CI.N aware of at least three late night smash and grabs since Sunday 14th, March.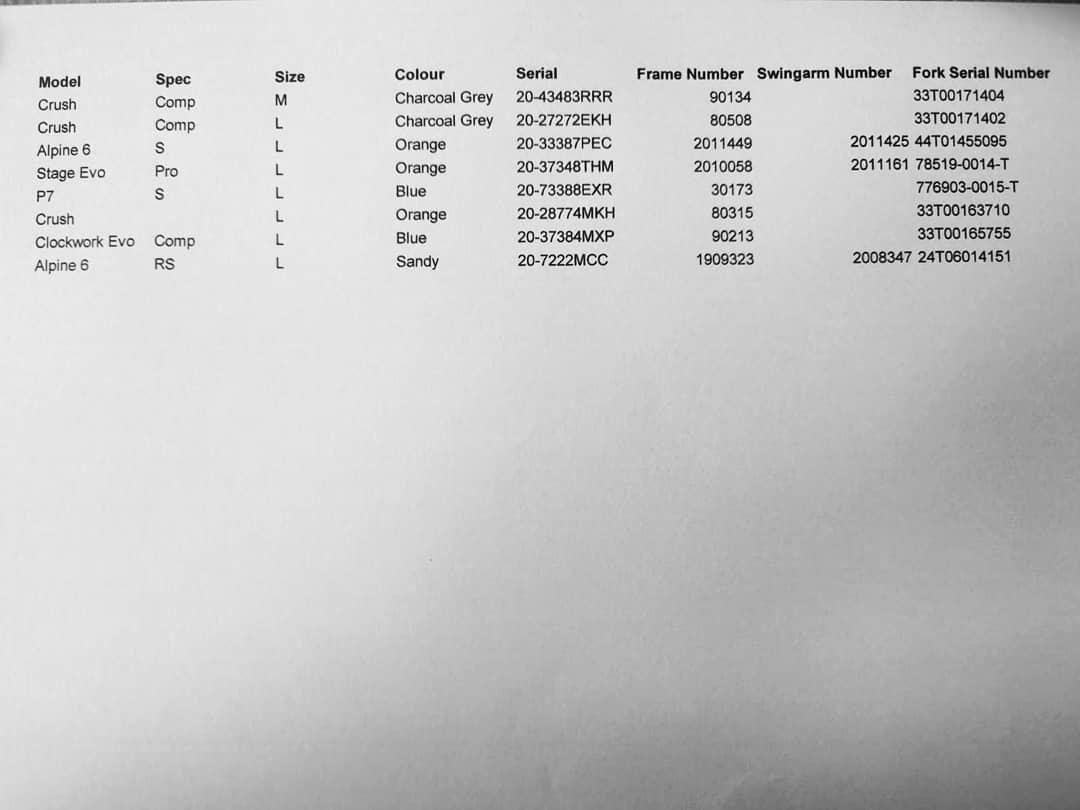 Uttoxeter Cycles
The spate of forced entries began with Uttoxeter Cycles, just south east of Stoke-on-Trent in the early hours of Monday morning. In this instance the store has lost all of its Orange mountain bike stock, along with a Giant Reign 2 29er. The details of the stolen bikes' frame numbers, fork chassis numbers and swing arm numbers are found to the right, should any shop or private buyer wish to cross reference the bike they are seeing against the stolen list.
"These are not your everyday bikes and are hand built to order. Most are custom finished and with custom paint colours," wrote the store to its Facebook page, where further detail can be found.
Rockin Bikes
Yelverton-based Rockin Bikes was the most recently hit with thieves striking during the night of March 17th at just past midnight.
The lead picture on this article shows the state that thieves left the shop after forcing entry, with bikes strewn all over the shop floor after the six bike theft.
The missing inventory is made up of:
Lappierre Spicy CF 7.9 – Large
Scott Genius eRide Tuned – Large
Scott Contessa Spark 930 – Small
Scott Contessa Spark 930 – Medium
Scott Spark 910 – Small – this will most likely have a broken left hand brake lever.
Scott Contessa Spark 920 – Small
JE James

JE James' Rotherham branch was likewise hit on Sunday night and in this instance "significant damage" was caused to the store in the process of lifting two Specialized electric bikes.
The store wrote: "The bikes in question are a Specialized S-WORKS Levo SL size medium (serial number WSBC004505352R) and Specialized Levo Expert Carbon size Medium (serial number WSBC004412858R). The stock loss, repairs and updated security measures will cost 10's of thousands of pounds and people like this will end up selling their Ill gotten gains for a few hundred pounds. The lowest of the low. If you have any information for us please ring our store manager on 01709 361919 any information will be taken in the strictest confidence." 
Bike retailers looking to quickly bolster their last line of defence can find a range of quickly available security products in our recent guide to ground anchors and other shop security products
here.