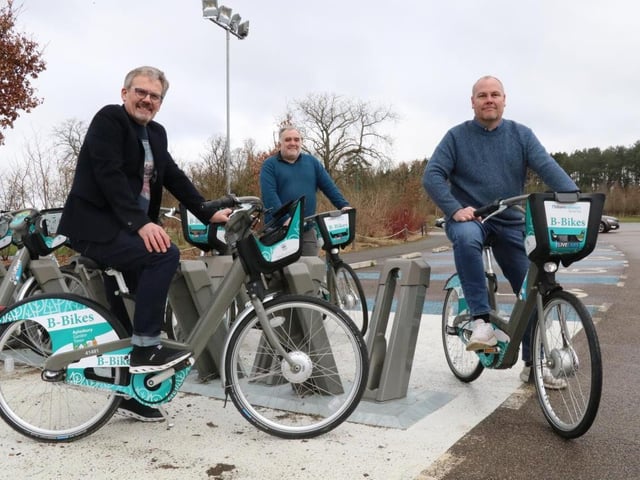 In the picture: (L to R) – Andrew Jackson, Managing Director at CycleFleet Ltd with local Stone and Waddesdon ward councillors Ashley Waite and Paul Irwin.
Linking the train station with Waddesdon Manor, which already had a docking station and ten bikes installed last year, the Greenway provides a safe and tranquil route for riding whether for recreation, commuting or simply exploring the local area.
The e-bikes are available on a first-come-first-served basis and full instructions on how to hire are displayed on the docking stations themselves. Hire charges are £1.50 for the first hour and £1.00 for each additional 30 minutes. The bikes charge up through the docking stations and are available round the clock, 365 days a year.
The scheme reflects the hard work put in by the Council, Aylesbury Garden Town, Waddesdon Manor and Chiltern Railways over the last year to set everything up. The e-bikes are operated by French company Smoove, with full repair and maintenance support from local company Cyclefleet. Bikes will be available for an initial period of 12 months and full customer support will be available 24 hours a day.
Buckinghamshire Council Cabinet Member for Transport Nick Naylor said he welcomed the completion of the County's first ever e-bike rental scheme. "Alongside our e-scooter trials in High Wycombe and Aylesbury, this e-bike scheme will add another dimension to getting around safely and sustainably which is particularly important in these challenging times. I'd like to thank all the partners involved for their hard work and commitment to bring this scheme to fruition."
Local Stone and Waddesdon ward councillor, Paul Irwin added: "Waddesdon Greenway has been the success we all knew it would be and this scheme adds yet another way in which people can enjoy this fantastic facility. I can't wait to have a go!"
Eleni Jordan, Commercial and Customer Strategy Director at Chiltern Railways said: "Chiltern Railways are very pleased to be supporting this innovative and exciting e-bike hire scheme that I know will prove popular with visitors and locals alike. We look forward to welcoming customers back to our services when Covid restrictions are eased, and these e-bikes will be the perfect way to continue a day-trip from Aylesbury Vale Parkway along the Greenway to Waddesdon Manor."
Simon Wales, Chief Executive of Waddesdon Manor added: "We are delighted to be a partner in this new e-bike scheme. Since the first phase was completed last year, the e-bikes have already proved to be popular, with regular usage around Waddesdon's grounds, along the Greenway and further afield. We look forward to seeing how the hires develop over the next twelve months and we remain committed to the promotion of environmentally-sustainable transport."
Andrew Jackson, Managing Director at CycleFleet Ltd commented: "CycleFleet has partnered with Buckinghamshire Council for over a decade to provide a number of bicycle fleets, maintenance services, and other cycling initiatives to local residents and businesses. We feel particularly privileged to be involved in the delivery of this timely e-bike hire scheme into such an idyllic rural setting."
The e-bike scheme has been paid for from money won in a competitive bidding process to the ADEPT network (the Association of Directors of Environment, Economy, Planning and Transport). The grant money was provided by the Department for Transport.