There are some not so typical bike industry ad campaigns making waves this week, with Cannondale electric bike ads seen on billboards in prominent locations around the globe and Brompton likewise earning plaudits for a new campaign targeting ageism.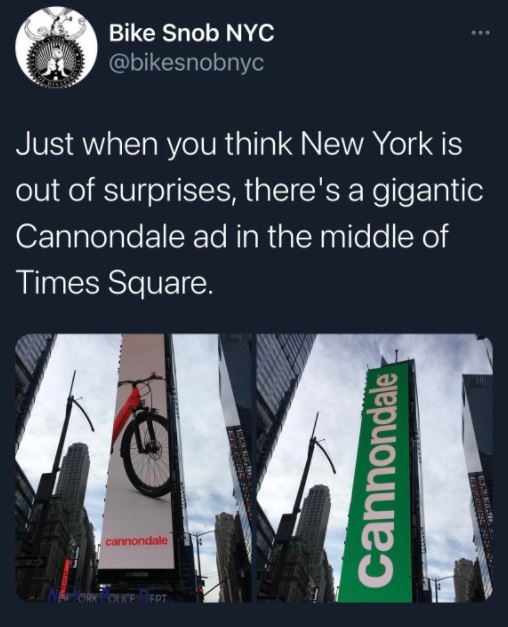 Cannondale's campaign promotes the firm's latest urban electric bike product – the Adventure Neo e-bike – with high visibility billboards taken in London, Berlin, New York and San Francisco.
The ad campaign has thus far made brief appearances in New York's Times Square and will soon return to the SoHo area of NYC next month.
UK Country Leader at CSG Nikki Hawyes today posted a snippet of the campaign launch, offering: "Cannondale's new electric Adventure Neo global campaign launches today. A new approach to attract more people into cycling."
The billboards carry varying slogans designed to encourage people to think about active transport in the context of clean air and decongested cities. In London the campaign carries "Be the change", while others read "Fresh air is good for you. It's good for fresh air."
Brompton tackles ageism

A new campaign from folding bike giant Brompton has already won plaudits from Transport for London (TfL) and the Mayor of London, who have commended 'I'm Getting ON' in TfL's Diversity in Advertising 2021 competition. Brompton scooped second spot.
Seeking to flip outdated stereotypes on their head, and show that it really is never too late to get on a bike Brompton's ad campaign flips the term 'Getting On' to become a a clarion call for all those who believe that everyone should experience the joy and freedom that a bicycle provides, whatever their age.
Since the launch of its electric bike, Brompton has seen a shift in its customer profile, with over 55% of customers aged over 55 buying Brompton Electric bikes, compared to around 30% for their non-electric models.
Christina Lindquist, Head of Marketing, Brompton Bicycle Ltd said: ''We're proud of the opportunities that our bikes give to people of all ages, and wanted to make a clear statement countering the notion that some people are 'too old' to cycle.
''It's time to end the stigma around physical activity for older generations. We know from speaking to many of our customers who are over 55, that they ride absolutely everywhere – whether it's for errands, seeing friends and family, or exercise.
''As we begin to emerge from the Coronavirus restrictions, it's more important than ever that everyone gets active, and we want to play our role in making that happen.''
Back in June of 2020 another electric bike label, Vanmoof, made headlines for its disruptive ad campaign that promoted the bike as a pollution and congestion free mobility, while simultaneously illustrating the damage motoring is doing to our environment.