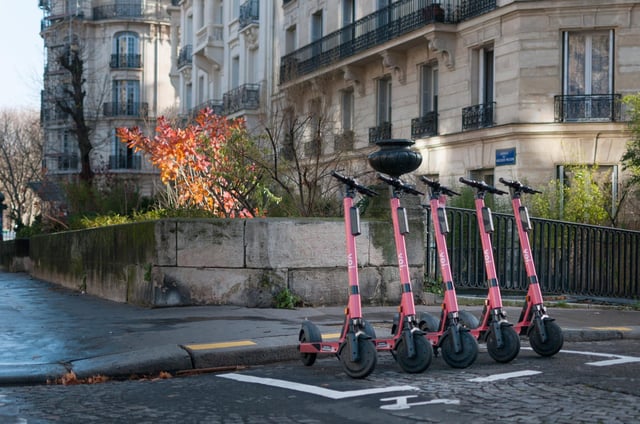 An e-scooter trial could start in Portsmouth in March. Picture: Voi Scooters
The city council's transport boss, Councillor Lynne Stagg, approved a six-month e-scooter rental trial during a meeting today that is set to start mid-March.
Run by Voi Scooters, the pilot will launch with up to 100 scooters provided at around 25 docking stations, with NHS and emergency service workers set to get free use during lockdown.
At the meeting representatives from Voi explained that scooters will be limited to 10mph during the first month, and the council will be able to create and adapt specific 'no-go' and 'go-slow' areas around Portsmouth using geo-fencing technology.
Council officer Richard Lancaster said: 'We are still developing no-go and go-slow areas.
'We are looking at Commercial Road and Palmerston Road North, they will be no-go zones and the e-scooters won't be allowed to go in those particular areas.'
The scheme – that will run until November this year – comes as a wider trial across the Solent, with a pilot already rolled out on the Isle of Wight.
Unlike private e-scooters, which are illegal to use on public roads, all the rentals will be limited to speeds of 15.5mph, will have indicators and will use geo-fencing to ensure they are only used on certain roads.
Speaking at the meeting, Cllr Stagg said: 'I am hoping this trial will lead to government legislation on private scooters.
'I think the actual scooters themselves are a wonderful way of getting cars off the road and getting from A to B.'
Opposition spokesman for transport, Cllr Simon Bosher, added: 'My concerns are around engagement with the police, and that's not necessarily from Voi and the city council – it looks like there's already a good relationship there – it's more to do with the unregulated illegal scooters.'
Councillors and Voi representatives agreed to report back on the trial a couple of months down the line.
Potential locations for the docking stations include QA Hospital, St Mary's Hospital, Southsea promenade, Gunwharf Quays, North End, Drayton, and Paulsgrove among others.
The scheme will be paid for by a slice of a £900,000 fund from the Solent Transport Zone.
A message from the Editor, Mark Waldron
You can subscribe here for unlimited access to Portsmouth news online – as well as fewer adverts, access to our digital edition and mobile app.
Our trial offer starts at just £2 a month for the first two months.