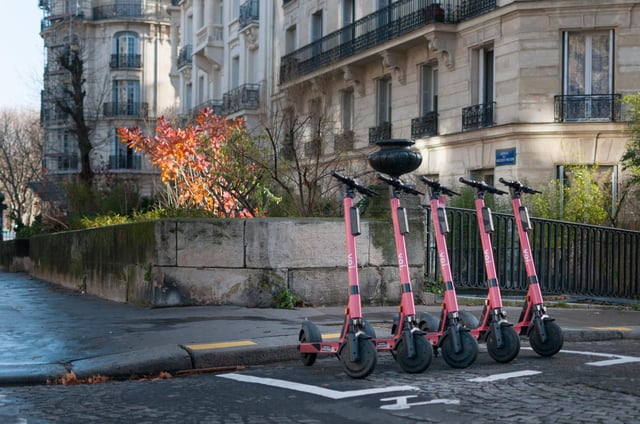 An e-scooter trial could start in Portsmouth in March. Picture: Voi Scooters
Portsmouth City Council has found an e-scooter rental company to provide up to 100 scooters at around 25 docking stations – including at Queen Alexandra, St Mary's and St James' Hospital – in a bid to reduce car use by commuters.
The scheme – that will be run from March to November this year by Voi Scooters – comes as a wider trial across the Solent, with a pilot already rolled out on the Isle of Wight.
An e-scooter trial could start in Portsmouth in March. Picture: Voi Scooters
Unlike private e-scooters, which are illegal to use on roads, the rentals will be limited to speeds of 15.5 miles per hour, will have indicators and will use geo-fencing to ensure they are only used on certain roads.
Councillor Lynne Stagg, the council's traffic and transport boss, said: 'I am hopeful this will be successful and lead to fewer cars. The Isle of Wight has recently seen a 20 per cent reduction in the number of cars on the road after putting in rental scooters.
'I know there are concerns about the private scooters, which I share, but these will be easily recognisable by their colour, they will have registration plates and people will be charged for not returning them or not using them properly.
'They're aimed at commuters so the idea is to have them in places like Cosham train station and at Lakeside.'
Other potential locations for the docking stations include Southsea promenade, Gunwharf Quays, North End, Drayton, and Paulsgrove among others.
However, there were some doubts as to whether they would reduce commuter traffic as suggested.
Rachel Hudson, from Friends of the Earth Portsmouth, said: 'We think it is a good idea but early evidence is suggesting people aren't using e-scooters instead of cars, they're actually replacing walking and public transport with them.'
The scheme will be paid for by a slice of a £900,000 fund from the Solent Transport Zone.
It is planned that during lockdown NHS and emergency service staff will get free use of the scooters, and a 75 per cent discount at all other times.
The trial will be considered at a virtual traffic and transport meeting on February 25.
A message from the Editor, Mark Waldron
You can subscribe here for unlimited access to Portsmouth news online – as well as fewer adverts, access to our digital edition and mobile app.
Our trial offer starts at just £2 a month for the first two months.