Bike sharing will soon return to New Orleans under a deal Mayor LaToya Cantrell has inked with a newly-formed nonprofit, restarting a program that was nearly ubiquitous but fast became a casualty of the coronavirus pandemic.
The agreement should put 350 rental bikes on city streets by September and a total of 725 within four years, according to the agreement with the new operator, Blue Krewe.
But that's still only half of the 1,400 bicycles that were stationed across the city last March when the popular Blue Bikes program fizzled. The group will also provide locks and parking spaces for the bikes.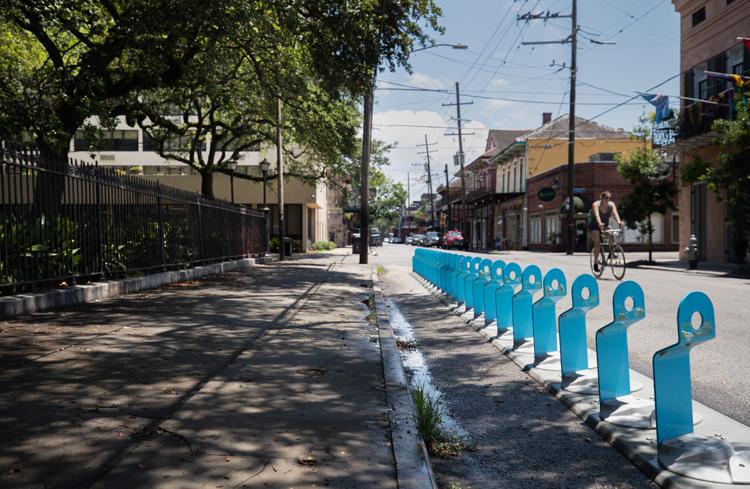 "We had (bike share) back in the day. We had to pull it," Cantrell said this week. "But we reinvigorated it, and I know it's going to be bigger and better than it was previously." 
City Council members approved the agreement Thursday, after the council's transportation committee backed the proposal.
Public bike sharing in New Orleans began in December 2017, when the city partnered with Social Bicycles, which later became JUMP, to start the Blue Bikes program. Cornflower blue bikes were stationed in various hubs around the Central Business District, French Quarter and other neighborhoods. 
Riders could rent a bike at one location and drop it off at another, which the city hoped would encourage people to drive less, stay in shape and better enjoy various neighborhoods. 
Within a few years, the program expanded to include 1,400 bicycles and spread to the Gentilly, Uptown and Algiers neighborhoods. In early 2020, the manual bikes were replaced by electric ones that whizzed along at up to 20 mph.
The program charged 25 cents a minute, or $30 a month, and organizers said more than a million miles were traveled in nearly 700,000 trips.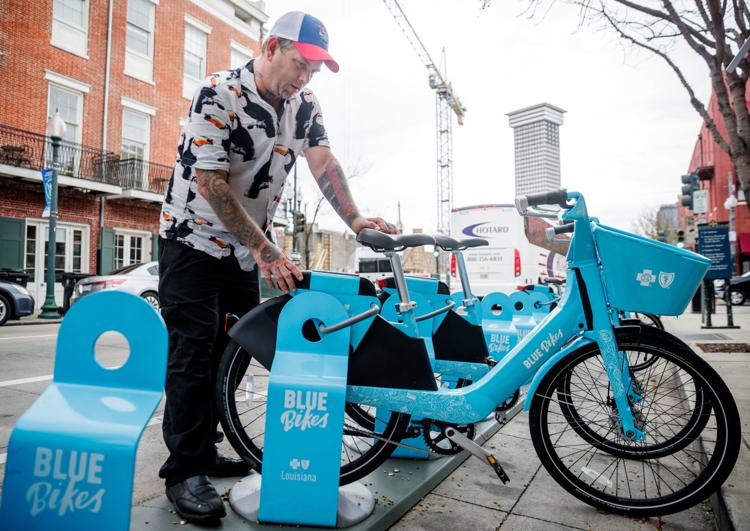 But then came coronavirus, and with it, massive closures and the cancellations of city events. Tourism took a nose dive and jobs disappeared. JUMP, which by then had been sold to Uber, initially promised to sanitize its bikes and keep them on the road. But the company removed them not long after Cantrell's stay-home order took effect in mid-March.
Uber later sold JUMP to Lime, a California-based firm that decided to pull out of New Orleans entirely, said Geoff Coats, the CEO of Blue Krewe and former head of JUMP's New Orleans operation. 
A spokesperson for Lime said the company inherited a national bike rental company "in financial distress," and decided that the only way to maintain service in New Orleans would be to add scooters to the rental program, a step city officials chose not to take. 
The loss of outside investment by a private partner "is our challenge," Coats said. "But it's also an opportunity to take back control, and make sure that this equitable, active transportation option is here for the community."
Coats said each bike costs up to $2,000 to purchase, which means it will cost the nonprofit $700,000 to get bikes on the streets by September. That's not counting the cost of staffing and maintenance. The group received a $25,000 grant from the Greater New Orleans Foundation in October 2020, and Coats said he hopes to raise more money through partnerships with businesses and the community.
The old program did not require the city to cover the costs of the bicycles. In fact, the operator was required to pay the city a portion of excess revenue, though the new deal does not feature that clause. 
It's not clear yet if Blue Krewe will charge the same amount to riders as the Blue Bikes program did last year. Coats said pricing, along with locations for the bikes, will be worked out later. Also unclear is whether the bikes will be electric or traditional pedal bikes. 
The bike hub locations will be selected in keeping with a city plan to promote cycling and provide safer bikeways for riders, dubbed Moving New Orleans Bikes, said Laura Bryan, director of the city's Office of Transportation. The program will be also allowed to use existing public bike racks, and will have a minimum of three bicycle share stations with at least 595 bike parking spaces by September. 
The city has begun to lay 14 miles of bike lanes and other improvements in Algiers, the French Quarter and the Marigny, and plans to lay 50 miles more in the 7th Ward, Central Business District, Central City, the Lower Garden District, Mid-City and St. Roch later this year.