There has been a 230% increase in orders of e-scooters at Currys PC World over the festive period, but a fifth of the population still say they're scared to ride one.
As e-scooter trials continue to roll out across the UK and the popularity increases, Currys PC World has partnered with e-scooter sage and radio DJ, Matt Edmondson, to create an entertaining electric scooter safety video, which is available on YouTube.
Current rules around e-scooters mean, private e-scooters can only be used on private land. A whopping 61% of Brits say that people who ride e-scooters are dangerous to others on the road, ride them too fast (49%) and do not wear protective gear (43%). Almost a quarter of those quizzed (23%) wish for clearer information on e-scooter health and safety, with nearly half (44%) unsure if riding on the pavement is allowed and 60% unsure of the legal speed limit.
In response to the findings above, the 'E-scooting: Do's & Don'ts' video, filmed on location at a Currys PC World store in Staples Corner, London, aims to show how fun e-scooters can be when used correctly. Top Tips include:
· Only use a rental e-scooter within a local area hosting a trial. Please see more info on the government website, here.
· Wear a helmet and make yourself as visible as possible.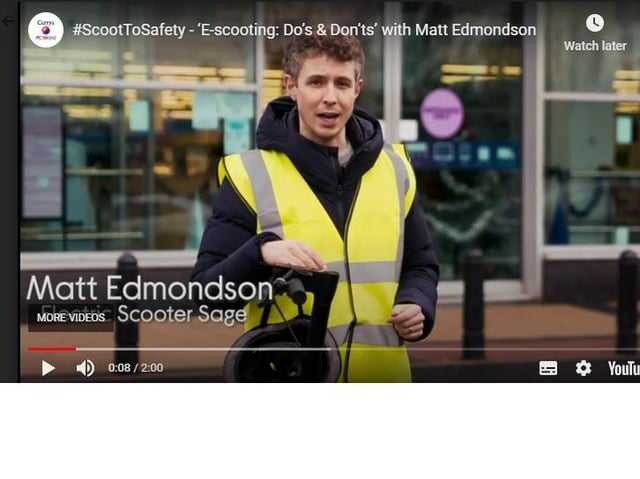 Radio One DJ Matt Edmondson in the new Currys PC World e-scooter safety campaign video
· Use the roads if your area is running an e-scooter trial but stick to the speed limits. In the UK, it's 15.5mph.
· Give everything extra-space! Don't scoot through narrow gaps.
· Know your battery life. Don't let it run empty whilst you're nowhere near a charging point.
· Ever ride a privately owned e-scooter on UK private roads, cycle lanes or pavements
· Ever double up! Scooters are only designed to carry one person.
· Ride on pavements. It's a danger to pedestrians, and illegal.
· Be a hazard! Park safely and courteously.
· Carry anything that could hinder your ability to control the scooter safely.
Head of Brand, communications, and planning at Currys PC World, Corin Mills, said: "E-scooters were in a lot of stockings across the nation this year and we expect the demand for e-scooters to rise ever further as the public look for alternative and independent modes of transport, with a smaller carbon footprint to boot."
Matt Edmondson added: "I have been an e-scooter fan for years, they're a great way of getting some fresh air and are better for the environment. Hopefully, our safety video highlights how fun e-scooters can be when used considerately and in line with government guidance. Watch the video, go forth, and scoot safely!"