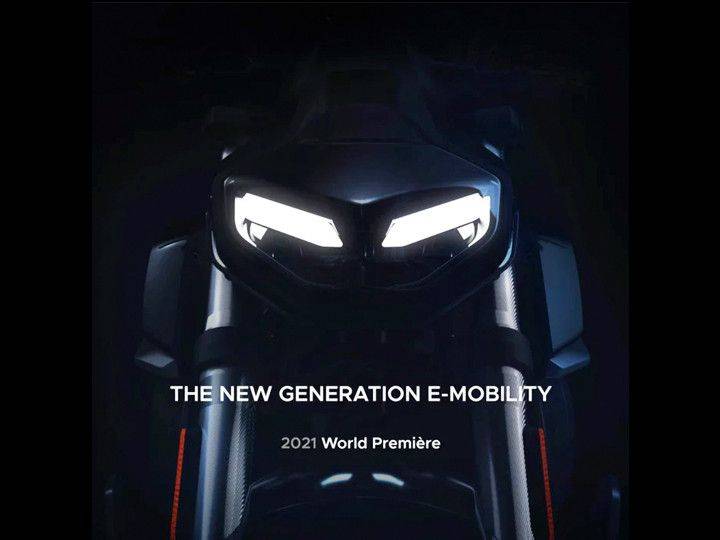 The electric two-wheeler industry is currently flooded with Chinese knockoffs or cheap products that may break down on you at any given point. Very few actually have the courage and technical know-how to do something different. Vmoto Super Soco is one such brand that stands out from the crowd. While it primarily deals with small capacity electric scooters and motorcycles, it's working towards stepping into the big leagues. And its very first offering isn't too far along. The brand has teased what looks like its first proper big capacity electric motorcycle. 
Also Read: Your New Revolt RV400 Will Cost More
From the looks of it, the bike does have some sporty intent. And that's glaringly evident from its aggressive, almost MT-09ish (previous-gen) split LED headlight design. A pair of beefy forks and what appears to be a fat front tyre also point towards a larger bike. 
Also Read: All The Electric Two-wheelers Launched In 2020

The second image either looks like a side fairing or the top half of the tank. In any case, there's only one aspect that's worth pointing out here and that's the hinged cover for the charging port. It's fairly large, meaning the bike could have fast charging capabilities–and that would require a larger fixed battery to do so. 
The current set of motorcycles from Super Soco deliver speeds between 45kmph to 60kmph. We believe its upcoming motorcycle could be faster, and purpose-built for a thrilling ride. Will the bike make its way to India? Not anytime soon, considering the country's current appetite of smaller EVs and the lack of infrastructure. What do you guys think? Let us know in the comments below.

Source: Electrek